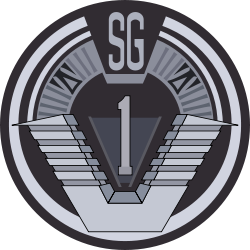 "SG-1 has a surprisingly good habit of beating the odds."
SG-1 is the designation for the flagship team of the International Stargate Command. At present, SG-1 is comprised of Lt. Col. Cameron Mitchell (Commanding Officer), Maj. Rebbecca Eaton (Executive Officer), Dr. Daniel Jackson (Research Specialist), and Vala Mal Doran (Cultural Advisor).
Member details
Edit
Commanding officers
Edit
XO (Executive Officer)
Edit
Technical officers
Edit
Research specialists
Edit
Cultural advisors
Edit
1997-2007
Edit
Accomplishments
Edit
External links
Edit
Community content is available under
CC-BY-SA
unless otherwise noted.