"We have got the best jobs in the world, don't we?"
—Cameron Mitchell
Col. Cameron Mitchell, also known simply as Cam, is the current leader of SG-1, taking over command of the unit after Samantha Carter vacated the position herself. Prior to joining the International Stargate Command, he was a talented United States Air Force pilot given the callsign "Shaft", and participated in the pivotal Battle of Antarctica, where he was seriously injured and promised any post he wanted as compensation. After recovering, he requested transfer onto SG-1, only to discover that the other members (Carter, Teal'c and Daniel Jackson) had moved on several months before. With some effort, however, he was able to reunite the team, and served as Carter's second-in-command until after the Fall of Earth. While occasionally reckless and thrill-seeking, Mitchell has evolved into a very capable soldier well worthy of the position he holds.
In the year 2063, Cameron had been promoted to head of Homeworld Command in the Pentagon, effectively making him the face of human military operations in the Milky Way.
Biography
Edit
Early life
Edit
Cameron Mitchell was born in 1970 to Frank and Wendy Mitchell. He grew up in Auburn, Kansas, and had at least one sibling. He also had a grandmother, who was a very devout Christian, and was described by Mitchell as a "Bible thumper", as she often taught him several religously-related stories, though Mitchell often just nods his head until she gave him macaroons. His grandfather was the captain of the Achilles, which once transported the Stargate from Egypt to the United States, to prevent the Germans from getting their hands on it towards the brink of World War II. His father was a test pilot. However one day, one of the tests almost cost Frank his life, and both his legs, though they were replaced by prosthetics. He later decided to become a pilot, just like his father. 
During High School, he had quite an infatuation for a fellow student, Amy Vandenberg. Though she was unaware of this, Mitchell was unaware that she had an infatuation for him, even being oblivious to some signs, including dumping her boyfriend so Mitchell can ask her out for the prom, though he didn't ask her out on that day. He also took fencing in college, but admitted to have flunked it on several occasions. He also learned to speak some Chinese at some point. 
He then became a pilot. While he was only a cadet, he made friends with Bryce Ferguson, who both wanted to eventually join the Space Program. However, in 2002, Ferguson saved Mitchell's life, but Ferguson himself was injured, as a piece of shrapnel was lodged against an inter-cranial artery in his head, which would later turn into an aneurysm. While Mitchell was Captain, he was flying F-16s over the Middle Eastern desert. In one mission incident, he thought he was targetting insurgents, but due to the credebility of local allied intelligence, he mistakenly bombed a vehicle full of innocent refugees rather than the enemy.
Eventually, he joined the Stargate Program, and became an F-302 pilot for the Prometheus, where he was assigned the callsign "Shaft". 
2005-2007
Edit
Service awards and decorations
Edit
Over the course of his military career, Cameron Mitchell has received a number of awards and decorations for his service in the United States Air Force. [citation needed]
Campaign history
Edit
Alternate realities
Edit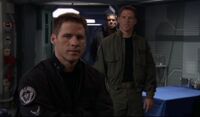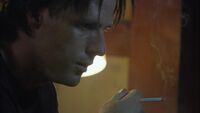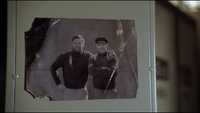 Behind the scenes
Edit
External links
Edit
Template:S-start Template:Succession box Template:S-end
Community content is available under
CC-BY-SA
unless otherwise noted.